Now through August 31, 2021
|

South Parking Lot behind Forever 21
---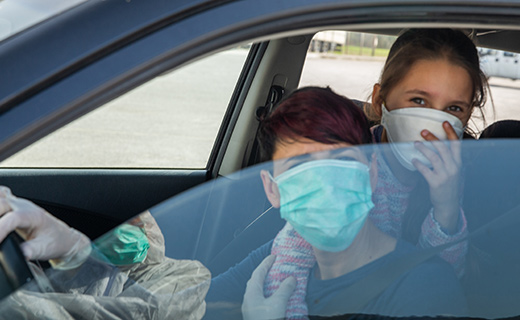 Covid Clinic Open Now!
Testing Results Available in 20-Minutes

Fresno Fashion Fair
Website: www.covidclinic.org
Phone: (877) C19-TEST or (833) 554-8214)

Hours: Mon-Sun: 9am – 5pm
Covid Clinic offers convenient drive-through COVID-19 testing right here at Fresno Fashion Fair.
Testing for Individuals:
Covid Clinic has been operating drive-thru COVID-19 testing sites since early April, testing over 140,000 people to date. We are currently offering a rapid COVID-19 test that yields results via text and email in 20 minutes. Telemedicine consultation is also made available to every patient with questions are answered by a clinical professional. If you would like to make an appointment, CLICK HERE.

Fresno Fashion Fair Patrons are eligible for a special $5 off offer. Enter the Voucher Code "Jen" when registering.

Covid Clinic offers a variety of drive-through COVID testing options:
Rapid COVID-19 test: This is a nasal swab test by Quidel that uses the Sofia SARS Antigen FIA technology and gives results in approximately 30 minutes. It has received emergency use authorization by the FDA and has a sensitivity of 96.7% and a specificity of 100%. This test is best for those who are currently infected and symptomatic.
COVID-19 RT-PCR test: This is a nasal swab test through LabCorp and has also received emergency use authorization. The test detects viral RNA and has been shown to have the most accuracy of the available tests, but can take anywhere from 3-7 days to get results. This test is also best for those who are currently infected and symptomatic.
COVID-19 Antibody test: This test is also through LabCorp and has received emergency use authorization. This is a blood test for those who don't currently feel sick but want to find out if they have previously been infected and recovered from COVID-19.

All testing is by appointment only. Same day appointments may be available, but please sign-up first at the link below. Having an appointment first ensures enough staff and testing supplies are available. It also helps reduce the number of errors in the registration process that could lead to delayed test results. Guests should remain inside their vehicle during their appointment.

Testing for Businesses, Groups and Events:
While we have drive-through testing sites throughout California, we also offer on-site group testing for businesses and events, which also include consultations to help determine how to keep workplaces safe. To inquire, please email aly@covidclinic.org.

For group testing for 10 or more please contact your Community Outreach Coordinator: Aly Collins (714) 319-3500 or aly@covidclinic.org.