Now through December 24, 2019
---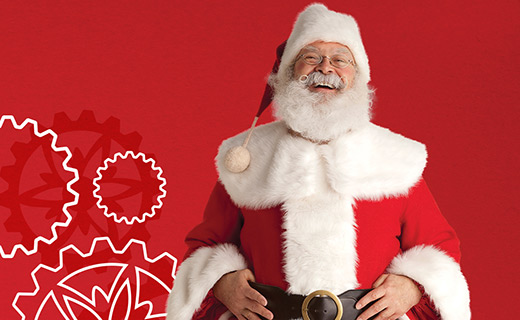 Santa will be available for photos and visits at his Headquarters presented by HGTV, located in Center Court near Macy's Mens and Starbucks.
This holiday, check out the interactive Elf Academy at Santa HQ. You can try on the latest elf looks with Santa's Magic Mirror, create your very own Elf- ID Card and scan yourself on the Naughty or Nice O'Meter. Plus, new this year, spend less time in line and more time on holiday fun with a Fast Pass. Purchase yours today!
Want to see Santa sooner? Get a Fast Pass to make your family's visit even easier! Reserve Below.
SANTA HOURS
November 8 - December 1:
FRI (11/8): 11am-8pm
SAT (11/9): 10am-9pm
MON-THUR: 11am-8pm
FRI-SAT: 10am-9pm
SUN: 11am-7pm
* November 28 (Thanksgiving): Closed
December 2-19:
MON-SUN: 10am-9pm
December 20-23:
FRI-MON: 9am-9pm
December 24:
TUE: 8am - 6pm
PET PHOTOS WITH SANTA
We've reserved these special times for your furry friends to visit Santa!*
November 12, 19 & 26 from 6-8pm
*Cats and dogs only. Please be sure to have your pet on a leash or in a pet carrier.
SPECIAL EVENTS
---------------------
Jammin' in My Jammies | Breakfast with Mrs. Claus
November 9 from 10am-12pm | Outdoor Village
Roll out of bed and bring your kids to a special morning of fun with Mrs. Claus herself! Enjoy a special story time, crafts, and a light breakfast. Plus, come in your pajamas and visit the big guy at Santa HQ!
Fun with Jack & Strawberry
November 16 and December 7 from 2-4pm | Center Court
Let's have some fun with everyone's favorite Santa HQ Elf Academy stars
Signing Santa
December 3, 10, & 17 from 6-8pm | Center Court
Fashion Fair believes that every child deserves the opportunity to tell Santa what they want for Christmas, and during the first three Tuesdays in December from 6-8pm, Fashion Fair will be partnering with the DHHSC of Fresno to bring in Mrs. Claus (who we all know is fluent in sign language) to make sure that all deaf and hard of hearing children get the chance to talk to the Big Guy at Santa HQ presented by HGTV!
Jammin' in My Jammies | Holiday Kids Club
December 10 from 10-11:30am | Food Court
Join us in your PJs for a special Holiday Kids Club in the Food Court! Then head over to Santa HQ to see the big guy himself!
Help Through Holiday Giving | Marjaree Mason Center Tree of Hope
Village Entrance by Baskin Robbins
The Marjaree Mason Center is Fresno County's only dedicated provider of domestic violence shelter and support services. The families the organization serve often have very few belongings. The Tree of Hope program was established to help ensure all families receive gifts of joy during the holiday season. To participate, simply choose a tag from the tree, purchase the wish list item and deliver the unwrapped gift with the tag attached to the Majaree Mason Center.
Help Through Holiday Giving | Salvation Army Angel Tree
Food Court
The Salvation Army runs the Angel Tree program to help families provide some Christmas joy for their children. When times are tough, many families must choose between providing a traditional Christmas morning of surprise, wonder, and gifts or keeping the lights on that month. It is in times like these that The Salvation Army asks the community to step up and provide presents for children who otherwise might not have anything waiting for them under the tree. This program is the opportunity to tell a child they are loved.
Help Through Holiday Giving | Toys for Tots
Center Court by Santa HQ
The mission of the U.S. Marine Corps Toys for Tots Program is to collect new, unwrapped toys during the Holidays each year, and distribute those toys as Christmas gifts to less fortunate children in the community.
Here in Fresno, the Toys for Tots organization works countless hours and strives to give every needy child a toy at Christmas.
Please drop unwrapped toys in one of the collection bins placed by Santa HQ in Center Court.
Reserve Fast Pass >
Toys for Tots Toy Drive Collection
Now through December 15, 2019 | Disney
From Nov 2 - Dec 15, 2019, for every new, unwrapped toy donated at a Disney store in the U.S. or onl...
Party at Claire's
Now through February 28, 2020 | claire's
Ready to celebrate? Book your party in-store and we'll make it Sparkle! Guest of honor receives a f...